Online Services
Album Review
Put your albums online with Album Review from LabPrints!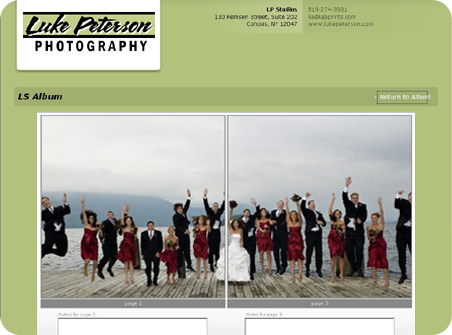 For just $9.99 a month you can post unlimited albums online for your customers to proof! Not only will they be able to look at the album layout, they will also be able to type comments under each page. These comments get sent back to you, making changes easy and simple! Great for out of town clients.
| Features | Benefits |
| --- | --- |
| Online review | Customers can review their album from anywhere in the world |
| Ability to leave comments | Your clients can type their comments below each page |
| Secure | All album designs are secured to disable downloading or printing by viewers |
| Optional password protection | Extra security for your clients |
| Make changes easily | Just re-upload changes to the same album for additional review by your client |
| Compatible | Accepts JPEG & TIFF images from any album design program, including any designs created within LP Digital Studio |
How it works
The online Album Review tool allows you to quickly and easily post album designs on the Internet for your customers to view and give you feedback. The Album Review tool integrates with LP Digital Studio for easy posting of any matted or flush album you have designed within the software. You can also host JPEG or TIFF images generated with any third party album design program.
Here are the steps to hosting an album design online:
Download and install the LP Digital Studio software if you have not yet done so.
Generate an album design with LP Album Builder or LP Composite Designer, or add JPEG or TIFF images from any third party album design tool.
Use the integrated Storefront tab in LP Digital Studio to access the Album Review screen.
Select the album design or group of images that you want to host online.
Add a title or optional password.
Your customers can view their album design by visiting your LabPrints Storefront homepage (a web page dedicated to your studio).
At the end of any day your customer leaves feedback, you will receive an email with the comments they left for each page.
You can use the LP Digital Studio software to print out client feedback and easily edit and re-upload an album design if needed.
Your album designs will be hosted for 60 days. (Can be extended within the software.)
Pricing
You will be charged a monthly fee of $9.99 for unlimited album design hosting. If you choose to terminate your album design hosting account, any hosted designs you have will be taken down.
Use of the LP Digital Studio software for posting/uploading of your album designs to the Internet is FREE. You have the option of purchasing our LP Album Builder or LP Composite Designer, but it is not required. This service is INCLUDED in our Online Storefronts Partnership Plan.
If you do not see your lab listed on the download page, you can select any lab listed, as the Album Review tool is lab independent.
If you have any additional questions about our online album hosting, please email sales@labprints.com or call 1-877-233-4951, ext. 316