Online Services
Online Storefronts
Host online with LabPrints!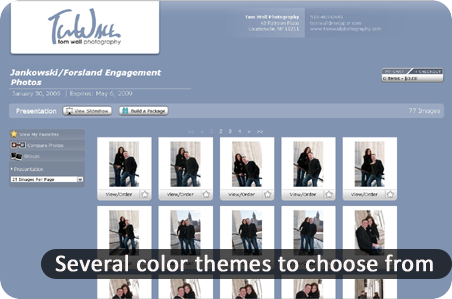 We'll sell more prints for you than any other site because our storefronts are easy to use, have great selling features, and make your photographs look fabulous! You receive your own web page--with your studio's contact information and logo. Plus you have the option to show a cover thumbnail of all your active events and images. This web page can also be easily linked to your own website!
Want to have online orders go straight to your lab? Want to look over every order? It doesn't matter because we offer both options! Don't have the ability to process credit cards? We can do it for you or you can do it yourself...it's up to you and just another reason why you should host your images online with LabPrints!
INCREASE SALES! We offer you the ability to offer Multi-pose packages, single-pose packages, and individual prints-- all in the same order! Plus, you can also offer your clients Photo Albums! They can pick and sequence the images themselves. It's easy for them and you. Check out the other great features we have designed to increase your sales!
| Features | Benefits |
| --- | --- |
| NO membership fees | We have flexible payment plans designed to fit every budget and volume. See below for details. |
| Easy setup | Easy and fast storefront setup for you. |
| Seamless integration | Integrates seamlessly with the rest of the LP software. Convenient, easy, and smart! |
| Multi-pose packages | Offer your customers multi-pose packages for increased sales! |
| Compare images feature | Images can be compared side-by-side, making it even easier for your customers to purchase more images! |
| Display choices | Events can be selected from thumbnails from each event, from a dropdown list, and/or by entering the event name-YOU control it. |
| Printable receipt | Customers can print out a receipt of their order with all relevant information. |
| Smart navigation | Easy for your customers to find the images they want to buy |
| Enhanced security | Sites are secured to disable downloading or printing by viewers |
| Watermark option | Apply a watermark for extra security |
| Quality control | You have complete control over every order- guaranteeing high quality and protecting your reputation |
| Customizable | You can choose the theme for your storefront's look and feel |
| Flexibility | Ability to specify print sizes & prices on a per-event basis |
| Password option | Ability to give a password to each event |
| Minimum order option | Ability to set a minimal order for online sales |
| Favorites option | Customers can save their favorite pictures, which they can view and add to at another time |
| Marketing tools | You and your client can send e-invitations to interested parties |
| Pre-release option | Visitors can input their email addresses to be automatically notified when you release the event |
| Event reposting | Repost events at no charge...and increase sales! |
Click here for Pricing information.
If you have any additional questions about our storefronts, please create a support ticket CREATE TICKET HERE. Or call, 518-274-3931