Products
Photo One and LabPrints Integration
Announcing a powerful integration between PhotoOne and LabPrints!
PhotoOne and LabPrints have integrated their software to address the end-to-end solution desired by today's photographer. This is just another option that LabPrints is offering to their customers to help them save time and streamline their workflow.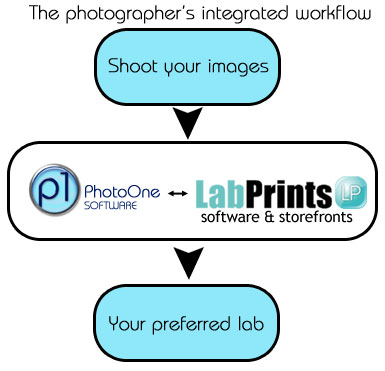 Why the integration?

In a recent survey by WPPI almost 70% of the 1,700 respondents stated that it is "very important to process their digital workflow through their studio management software."
The survey also revealed that photographers want software tools that are integrated. Over 75% of the respondents said that "integrated software was very Important," leading to time and financial savings.
How will this integration help you?

NO MORE double entry. Order information gets automatically sent from LabPrints to PhotoOne.
PhotoOne users will now have access to design tools, online storefronts, and a direct ordering link to their preferred lab.
LabPrints customers will now have the ability to sync up their studio management software in real-time with their actions in LabPrints.
You need MORE time. This integration developed by PhotoOne and Labprints will provide the busy photographer with exactly that!
Here are some of the features you will enjoy when you access this new integrated suite of software.
PhotoOne - STUDIO MANAGEMENT SOFTWARE
| Features | Benefits |
| --- | --- |
| Point-of-Sale | Capture client information |
| Marketing | Bulk email and marketing templates |
| Payment Processing | Built-in credit card processing and reporting |
| Reporting | Real-time status and reconciliation |
| Workflow | Image specific workflow templates |
| Order Tracking | Order Management and organizer |

LabPrints - SOFTWARE AND STOREFRONTS
| Features | Benefits |
| --- | --- |
| Direct upload to your lab | Send all orders to your lab FAST |
| Composite design | Quickly and easily design album pages & collages |
| Projection | Present images in actual size--great sales tool |
| Online Storefronts | Sell your images online |
| Online Album proofing | Most convenient way to show Album design |
| Lightroom Plug-in | Save time with direct export from Lightroom |
Click the icon below to view a video on the PhotoOne and LabPrints integration.

How to enable the integration with PhotoOne in LabPrints and PhotoOne. Short video on how to turn on the integration between tools--in LP Digital Studio. Must be on v5.9.6 or higher.